Available Manufacturers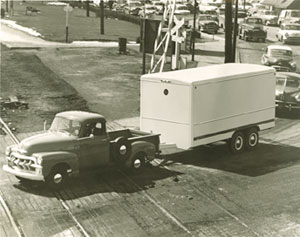 Maynard W. Wells, a man
of many "firsts" and a true manufacturing pioneer founded Wells Cargo back in 1954. A totally new industry was created when the very first cargo trailer rolled off the production line over 50 years ago. From that point forward, Wells Cargo has set the industry standard in quality, design, and construction techniques. By combining state-of-the-art technology with the best materials available Wells Cargo's product line has an unmatched service life of over 15 years of daily use. Today, Wells Cargo offers over 200 different trailer models for industrial, commercial and recreational applications.
Through the years Wells Cargo has maintained controlled growth without sacrificing its commitment to quality. In 1966, when son Jeffrey M. Wells assumed management of the company, he set an aggressive plan of expansion to meet the needs of their flourishing customer base. What started out as a modest one plant manufacturing operation steadily grew to six plants with over 650 employees. The plant locations are:
| | |
| --- | --- |
| LOCATION | YEAR STARTED |
| Elkhart, Indiana | 1954 |
| Waycross, Georgia | 1968 |
| Waco, Texas | 1972 |
| Ogden, Utah | 1982 |
| Phoenix, Arizona | 1996 |
| Carbondale, Pennsylvania | 2001 |
Wells Cargo trailers are sold and serviced through a nationwide network of experienced, knowledgeable dealers located primarily in the United States and Canada. Each authorized Wells Cargo dealer receives continuing product education and training assuring you get the best possible service. They will listen to your needs, evaluate your planned application, and assist you in finding the best possible Wells Cargo trailer for the job.
We encourage you to get to know Wells Cargo better. If you're in the area, feel free to stop by any one of our manufacturing facilities during normal business hours. One of our Sales Representatives will be happy to take you on a plant tour and you can see for yourself the Wells Cargo quality difference.